PlantMax is a machine that has been developed by Plantma AB for mechanized plantation of forestry seedlings.
The machine will:
in one pass, cultivate the ground, compact it, and plant a seedling.
Under perfect conditions the machine can plant over 40 seedlings/minute.
Collect and store data of the operation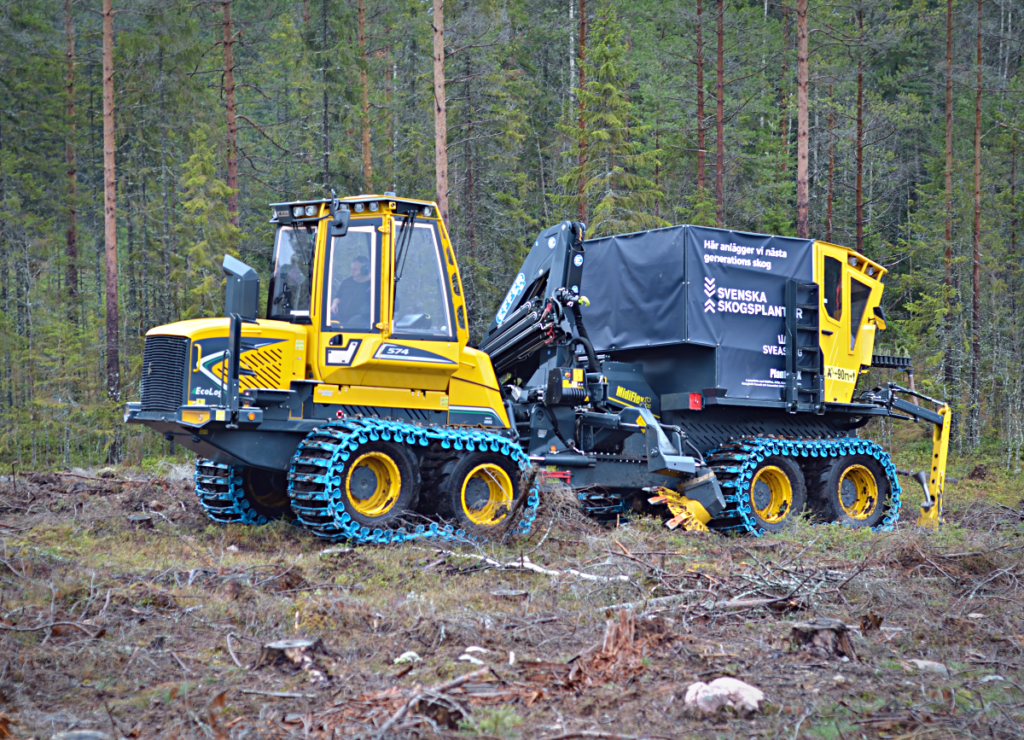 Development of our prototype machine, the Plantma X, started in 2018 and the first field tests were conducted late 2019. When winter came we took the machine to the workshop and made some alterations to it, in preparation for the season of 2020. Before we sent it to the forest , in April 2020, we made a capacity test in good conditions, flat ground, sandy soil, no rocks and no obstacles. The result shows that under perfect conditions the machine has a capacity of planting 2800 seedlings/hour!
During 2020 the machine was tested by 3 major forest companies in Sweden in a variety of conditions, types of ground, different seedlings etc..
The trials were not only important for us to learn more about the different conditions the machine would work in, but also to put the components of the machine to test for durability, functionality etc.
The Plantma X proved to be a reliable machine and in the autumn of 2020 the machine planted its millionth seedling.
Following the successful trials in Sweden, the machine was moved to North America and did demos in the South East working its way up to Canada where it has been planting for JD Irving in New Bruinswick the last two planting seasons.
While the prototype was planting we started making more machines, and the first serial produced versions of the planting unit, PlantMax, were delivered during 2022 and we currently have machines working in Sweden, Brazil and New Zealand.
New features have been introduced for the different conditions and the first machine in Brazil for example has been equipped with a prototype ripper and fertilizer. For more information on the available options and to find the right machine for your conditions, please contact us.
Technical data of Plantma X, the prototype
Base machine Eco Log 574E
Engine Volvo Penta 210kW
Transmission ECO19
Cranepump 180 ccm
Wheels 8st 710/45×26,5
Scarifier MidiFlex
Crane Effer 100 2S
Weight ca 24,5 metric tons, evenly distributed front/back
Width 3,09
Length 11 m
Wheelbase 5,7m
Height 3,85
Plants/hour Every arm is capable of making a planting attempt every third second
Plant storage 10,000-20,000 seedlings, depending on the sixe of the plant and how its packed