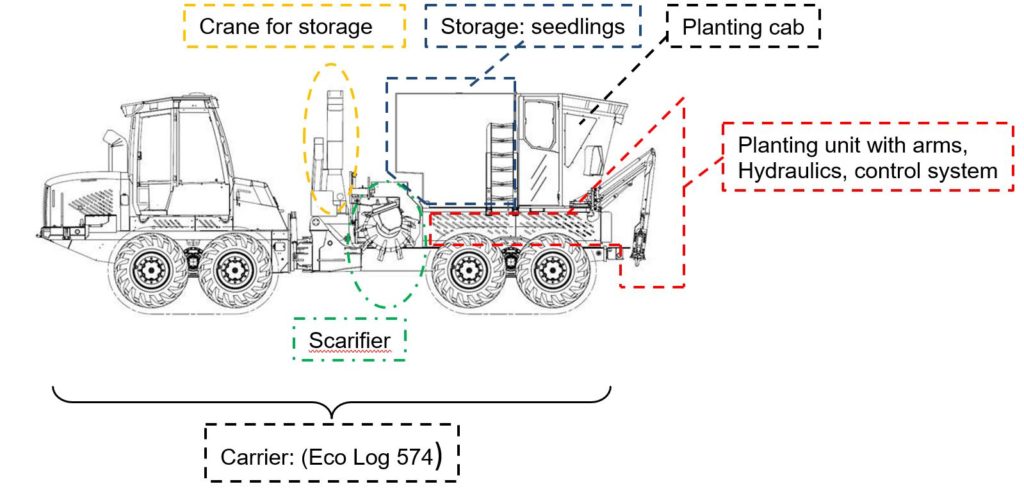 Carrier
The carrier we are using is a forwarder, an Eco Log 574.
Other carriers can be used as long as they have the needed power and hydraulics. See "Conceptual machines".
Planting Unit
The heart of the machine is a frame, bolted to the carrier, that we call the planting unit. To this frame the planting arms are attached and inside the frame all the necessary hydraulic valves, air valves and control units are mounted as well as a water tank. This unit can be mounted on other carriers as well.
Scarifier
For cultivating the ground we use a disc-scarifier, a MidiFlex. The Midiflex has the advantage that it can be mounted between the front and the rear boggie, and thus the rear boggie will run over to prepared ground and compact, making it ready to plant immediately. Other types and brands of scarifiers can be mounted, and for some applications maybe no scarifier at all.
Planting cab
The planting device of the Plantma-X is not (yet?) automated, so feeding plants from the cartons in the seedling storage to the planting arms is done manually.
In specially designed "cups" that take the seedling to the planting arm
The operator in the rear cab is responsible for feeding seedlings to the cups that feed the planting arms and is also for the planting quality.
Storage seedlings
Storage for boxes of seedling. Can hold 15-20.000 seedlings, depending on size of seedling.
Crane for the storage
The crane is intended to be used when switching storage boxes on the Plantma-X. Naturally, this could be done by the standard crane of the forwarder, but due to Swedish height restrictions on the road, we can not leave the standard crane on the machine and have therefore replaced that crane with a crane for road trucks that folds up within the height limits. In some markets this would be an "overkill", just use the standard crane.